Bitcoin is now stuck in a downtrend, having posted a series a lower highs and lower lows so far this month.
After being resisted on several occasions at the psychologically-important $30,000 level in recent weeks, Bitcoin has now faltered into the mid-$20k region, though it found recent support at its 100-day simple moving average (SMA).
Perhaps more alarmingly for Bitcoin bulls …
the reversal from its year-to-date uptrend (through mid-April) has been confirmed with prices now below the neckline of its head-and-shoulders pattern (March – May).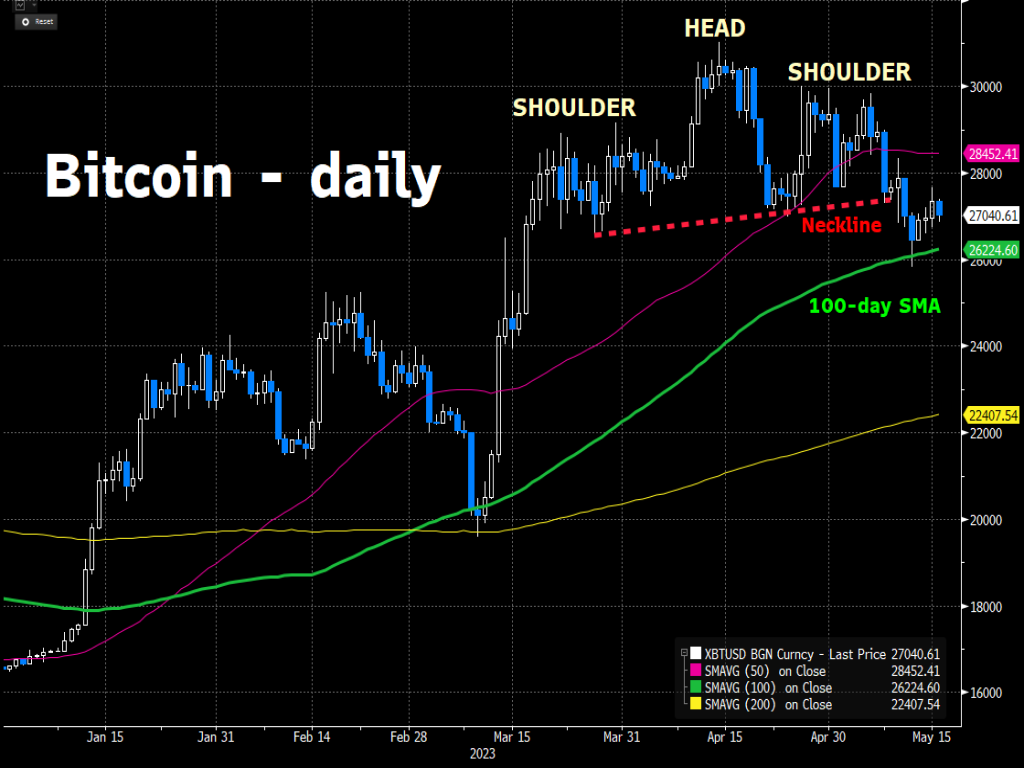 From a fundamental perspective, one would've thought that crypto aficionados have enough reasons to tout Bitcoin's virtues as a purported safe haven.
After all, global financial markets are still contending with growing fears, including concerns about a potential US default as well as a lurking US recession, even as further banking turmoil cannot yet be ruled out.
Yet, Bitcoin's inability to hold close to the $30k mark is in stark contrast to how other major asset classes have been faring of late:
The S&P 500 index, which is the benchmark index for US stocks, has been holding steady above the 4,000 level

The Nasdaq 100 index, laden with US tech stocks, has actually been grinding higher

Gold has kept its head above the psychologically-important $2,000 level for most of this month
Much of Bitcoin's recent declines, or at least its inability to keep its head up, appears to be due to sector-specific factors.
As has been covered extensively in our weekly crypto articles published every Tuesday, the crypto world has been contending with thinned-out liquidity as well as tightening regulations since last year.
More recently, there's speculation that traders who indulged in the latest memecoin craze may have been burned after "Pepe" lost over 50% of its value since May 7th.
Traders who had sold off some of their Bitcoin holdings to partake in the "Pepe" boom, before duly going bust, now may have less funds to wade back into Bitcoin.
Beyond such fleeting volatility, the crypto world has to contend with structural issues, in addition to the macro woes, before it can find a firmer footing.