Bitcoin made a fleeting appearance above its 50-day simple moving average (SMA) at the start of this week, only to falter back below that widely-watched technical indicator.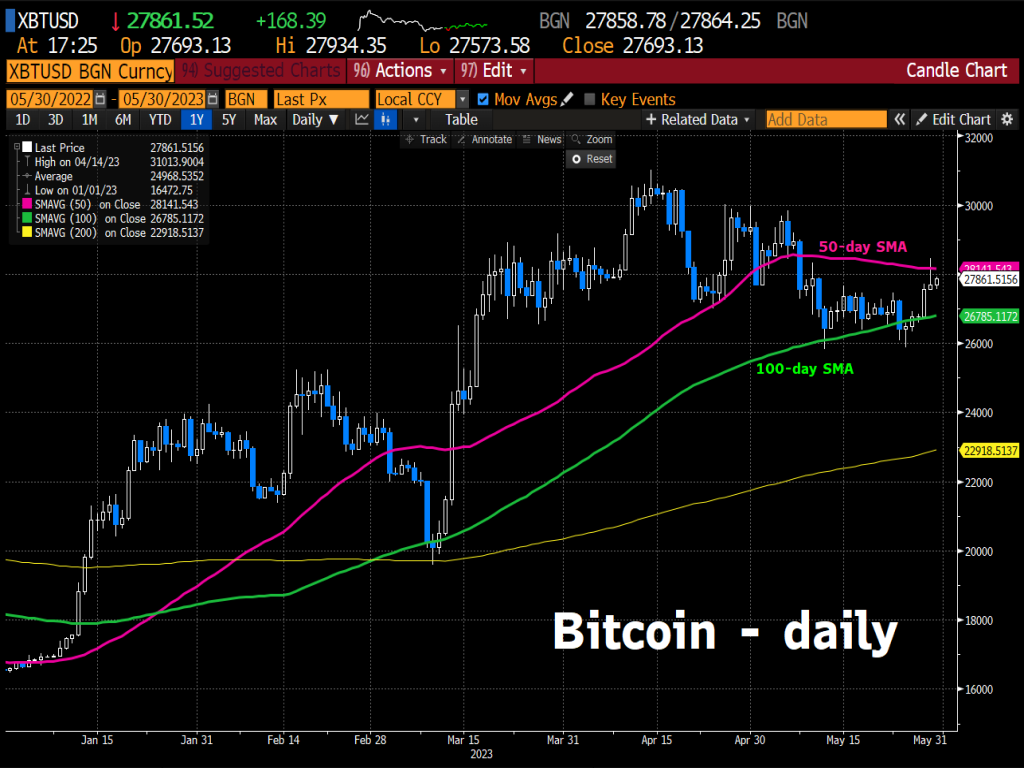 That spike up appeared to have been fuelled by market optimism that the US government can avert a catastrophic default.
US President Joe Biden (Democrat) and House Speaker Kevin McCarthy (Republican) reached a tentative deal over the weekend.
However, both sides must garner enough support for the deal in hand that raises the US debt ceiling before the reported June 5th deadline.
If lawmakers grant their approval, there could be another risk-on wave sweeping through global financial markets, which may keep Bitcoin above its 50-day SMA.

Otherwise, a knee-jerk reaction to a US default could see a risk-off tide sweeping across markets, potentially dragging Bitcoin below its 100-day SMA.
Still, such a catastrophic event would be a litmus test for Bitcoin and co., which have often been touted as alternative to traditional assets.
Hence, should a pillar that underpins the global financial system actually crumble and fall (i.e. the US government fails to meet its payment obligations), there could be no better opportunity for cryptocurrencies to test its mettle as an alternative safe haven asset.
To be fair to crypto afficionados, Bitcoin did surge in March following the turmoil in the US banking sector.
However, since reaching a year-to-date peak in mid-April, Bitcoin has been unable to keep its head above the psychologically-important $30k mark.
It remains to be seen whether or not Bitcoin's recent gains marks a sustained reversal from the series of lower highs and lower lows since mid-April, or whether it's merely a false break.
In light of the macroeconomic headwinds, along with the persistent woes within the crypto world, Bitcoin may have all to do to end a run of monthly declines every June for the past three years.