Litecoin has enjoyed a stellar start to the week, climbing about 3% since Sunday.
That's about double the gains of Bitcoin so far this week, while triple the gains of Ether over the same period.
NOTE: Litecoin is currently the world's 14th largest crypto by market cap, according to CoinGecko data, and was created in 2011 as the "faster" version of Bitcoin.
Since officially breaking into oversold territory early last week, when its 14-day relative strength index (RSI) broke below the 30 threshold, Litecoin has since posted a month-to-date high.
Litecoin bulls are also likely to take heart from the fact that prices recently found support from the upper downward trendline stemming from its early-July intraday high of $114.84.
Crypto bulls are set to be fixated on the intraday peak in late August as their next point of conquest.
A higher high beyond $70.55 may send a bullish signal to traders.
A fresh 2-month high for Litecoin just might rope more bulls in from the sidelines to potentially push Litecoin even higher.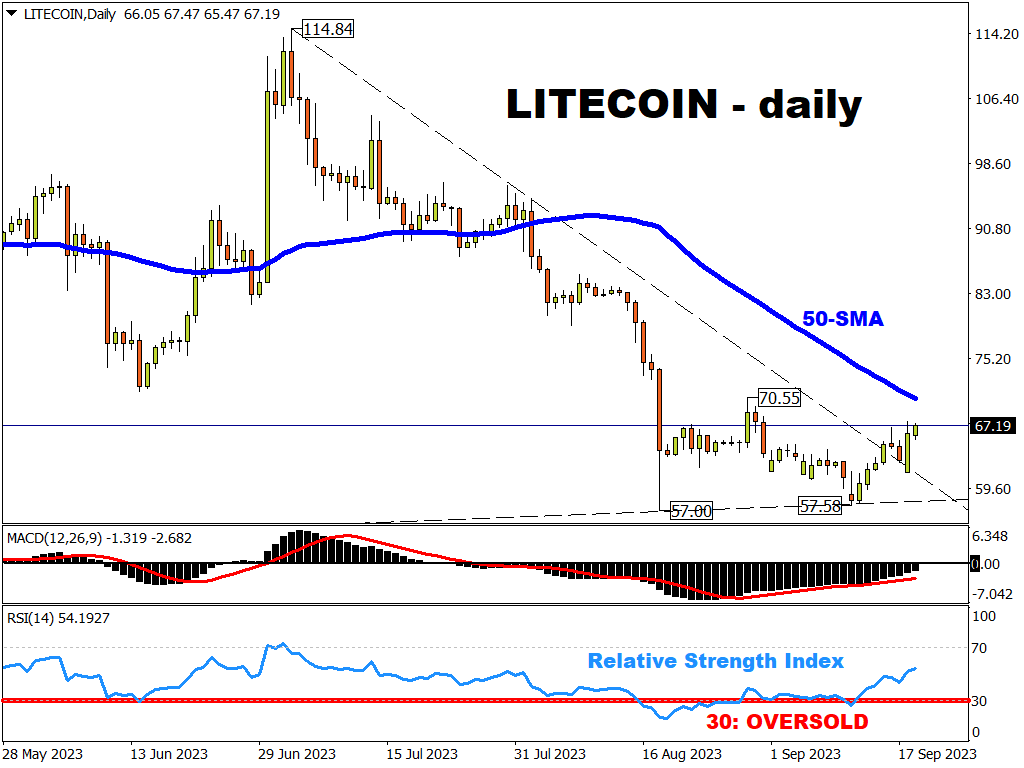 Of course, this is a massive week for global financial markets.
Within the span of 36 hours starting Wednesday (Sept 20th), the US Federal Reserve, the Bank of England, and the Bank of Japan, along with half of G20 central banks, may signal their next policy moves to investors and traders worldwide.
Although crypto prices have largely ignored such macro events so far this year, the 30-day correlation between Litecoin and the Nasdaq 100 index was recently restored to its year-to-date high on September 5th.
Central bank policies do influence liquidity levels across global financial markets.
And as we know, liquidity is a key pillar for the crypto universe, of which it has been sorely lacking this year.
Should these major central banks signal more rate hikes ahead, such policy tightening may further drain liquidity from global markets, exacerbating price moves for cryptos while potentially exerting downward pressure on prices.

However, signs that these influential central banks, especially the Fed, are done with their rate hikes, could spur near-term gains for the likes of Litecoin.
Overall, crypto aficionados could still do with a shot in the arm.
This especially in light of the fact that investors have pulled out about US$ 500 million in crypto products over the past 9 weeks, according to a CoinShares report.
And with this crypto still over 80% below its ATH (all-time high) of $413.41 on intraday prices set on May 16th 2021 …
Litecoin still requires plenty of fresh reasons before it can meaningfully begin closing that gulf between its current price and previous heights.