The crypto world took another blow to the gut, after the US Securities and Exchange Commission (SEC) filed a lawsuit against Binance – the world's largest crypto exchange.
The SEC filed 13 charges against Binance, including misrepresenting to regulators about trading controls and oversight, the unregistered offer and sale of securities, as well as the mishandling of customers' funds.
The biggest cryptos all fell on the industry-shaking news:
Bitcoin dropped by 5.9% on Monday, its largest single-day decline since March.

Ethereum fell by 5.2% yesterday, its biggest one-day drop since April

Binance Coin, the fourth-largest token by market cap, dropped by 10% yesterday!

The suit also labelled certain tokens as securities which were traded on Binance's platforms, prompting a slump in the prices of these tokens:
Solana
Cardano
Polygon
Filecoin
Cosmos
Sandbox
Decentraland
Algorand
Axie Infinity
COTI
Interestingly, Bitcoin apparently isn't covered by the SEC's securities laws.
Binance has described the 136-page complaint as "disappointing", and publicly expressed its intent to "vigorously" defend the platform.
Crypto industry's woes pile up
This is just the latest legal battle facing Binance. Back in March, they were sued by the CFTC (Commodity Futures Trading Commission) which also claimed that Binance had been evading regulators, as claimed overnight by the SEC.

The SEC is also accusing Binance of "wash-trading", which is to artificially make trading volumes on a platform appear higher. If true, this could erode trust among users in the world's largest crypto trading platform.

Also, with the above-listed tokens now designated as "unregistered securities", it suggests that these assets now fall under the SEC's remit, which means these assets are required to follow stricter rules. All this could make exchanges less eager to list such tokens for trading on their platforms, less they run afoul of the SEC's rules.
What's next?
This legal battle is set to be drawn out for years, and will have a major say in shaping the crypto industry moving forward.
It remains to be seen whether crypto loyalists as well as major industry players can overcome the tightening regulatory controls.
For now, the fact that Bitcoin prices haven't plummeted, and is holding steady despite reaching its lowest levels since March, portends to the underlying faith and support for crypto.
And to be clear, despite the steep decline yesterday (Monday, June 5th), Bitcoin still has a year-to-date gain of over 55% at the time of writing.
That's about 5-times more than the S&P 500's 11.3% advance so far this year, while also being notably higher than the Nasdaq 100's 33% year-to-date surge.
Still, the break below $26k is notable from a technical perspective.
That psychologically-important level was a crucial support level in May, and this break below may herald more near-term losses for Bitcoin. That is, unless the world's largest crypto can resurface back above that $26k line in the days ahead.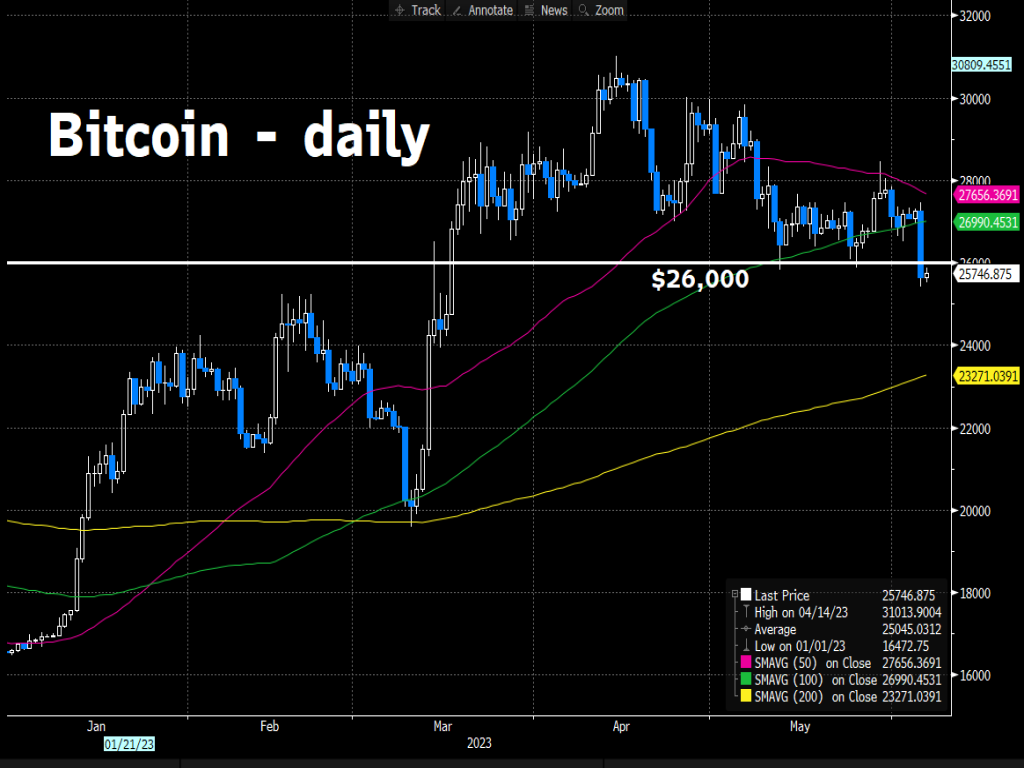 Ultimately, how much of that advance will Bitcoin still have by the end of the year would greatly depend on how well the sector can slog through the ongoing crypto winter and leave behind such industry-specific woes, provided it can emerge triumphantly on the other side.