USDJPY is threatening to break above the 148.0 psychologically-important level, amid broad-based US dollar strength.
Bloomberg's FX model forecasts a 73% chance of USDJPY trading within the 145.18 – 150.18 range this week.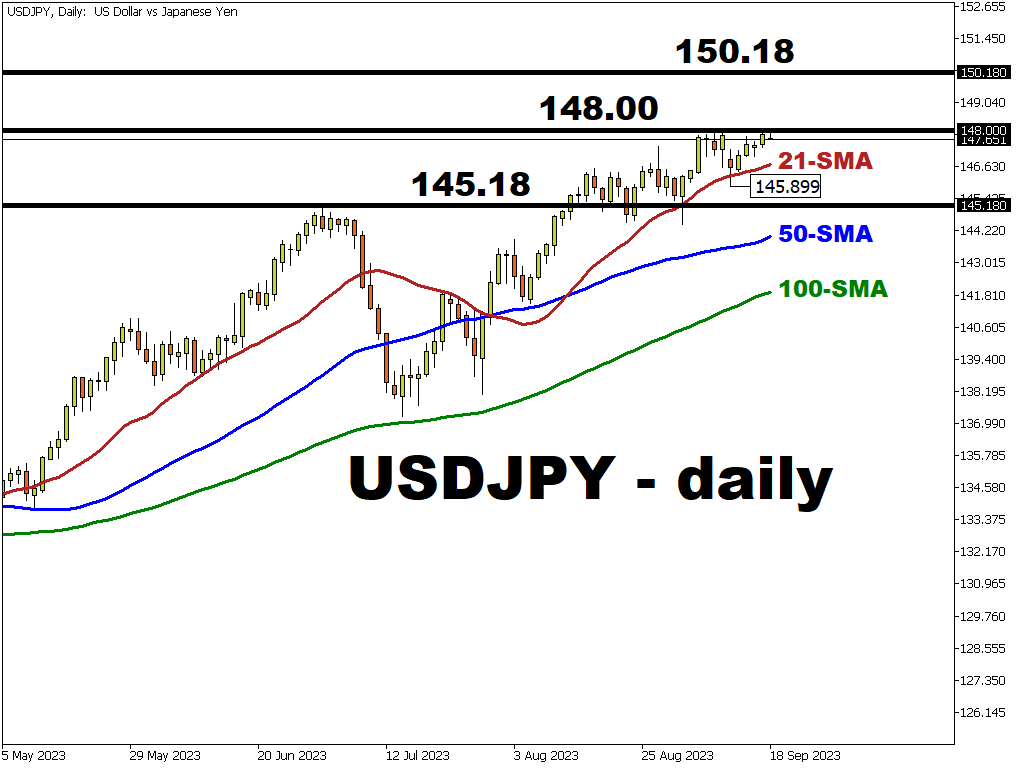 Markets are already bracing for the most volatility over a one-week period for this FX pair since July, while also becoming notably more bullish on the Yen.
Japan's latest CPI prints are sandwiched by pivotal policy meetings by the Federal Reserve (Fed) and the Bank of Japan (BoJ) on either side of the Pacific - all set to dictate USDJPY's immediate fate.
Events Watchlist
Wednesday, September 20th: Federal Reserve policy decision
The Fed is widely expected to leave US interest rates unchanged at this week's meeting. Markets will be watching for clues out of either the FOMC policy statement, and/or Fed Chair Jerome Powell's press conference. Hints of one more Fed rate hike may send USDJPY soaring, barring any currency intervention by the BoJ.
Friday, September 22nd: Japan August national CPI
Economists predict the headline consumer price index (CPI) will ease slightly to 3% year-on-year (y/y), while core CPI (excluding fresh food and energy prices) should match July's 4.3% y/y figure. Higher-than-expected inflation may translate into a USDJPY slump, on bets of the BoJ ending its negative rates regime sooner rather than later.
Friday, September 22nd: Bank of Japan policy decision
Markets predict a measly 22% chance of a BoJ rate hike this week. However, seasoned market watchers are only too aware of this central bank's penchant for surprises! Another tweak to its yield-curve control, or even the slightest of hawkishness out of BoJ Governor Kazuo Ueda, should serve as triggers for Yen bulls to run wild.


Here's comprehensive list of other key economic data and events due this week:
Monday, September 18
Apple set to release iOS 17
Tuesday, September 19
AUD: RBA meeting minutes
EUR: Eurozone August CPI (final)
CAD: Canada August CPI
OECD release global economic outlook
Wednesday, September 20
JPY: Japan August external trade
CNH: China loan prime rates
GBP: UK August CPI
USD: Fed policy meeting
Thursday, September 21
NZD: New Zealand 2Q GDP
EUR: Eurozone September consumer confidence
CHF: Swiss National Bank policy meeting
GBP: Bank of England policy meeting
USD: US weekly initial jobless claims
Friday, September 22
NZD: New Zealand 3Q consumer confidence; August external trade
JPY: Bank of Japan policy meeting; August national CPI; September PMIs
AUD: Australia September PMIs
GBP: UK August retail sales; September consumer confidence and PMIs
EUR: Eurozone September PMIs
CAD: Canada July retail sales