Apple's next earnings due after US markets close today.

Revenue expected to post second-straight year-on-year drop

Earnings outlook will be key in light of tougher economic conditions

Technicals: was upside breakout legit?
The iPhone maker is set to release its latest set of quarterly earnings after US markets close on Thursday, May 4th.
And markets are predicting that Apple's share prices could move by 4.9%, either upwards or downwards, when markets reopen on Friday – the next trading session immediately following Thursday's post-markets earnings release.
Of course, whether the stock moves up or down by 4.9% on Friday would depend on whether markets liked or disliked what they heard out of Apple's Q2 FY23 financial results and its outlook.
What to look out for?
As a headline, Apple is expected to report a second consecutive year-on-year decline in sales, having previously posted a 5% y/y drop in revenue for its Q1 FY23 period (Oct-Dec 2022).
Here are the forecasts for some key line items in today's highly-anticipated financial release:
Revenue: $92.6 billion (5% year-on-year drop)

Net income: US$ 22.65 billion

Earnings per share (EPS): $1.43

Sales of iPhones, which make up more than half of the company's overall revenues, is expected to drop as consumer spending takes a hit in light of looming recession risks.
Furthermore, Apple didn't have any major product releases during the period (January-March 2023), barring some updates to the Mac mini and MacBook Pro.
The above suggests limited catalysts for a positive revenue surprise.
Beyond how the actual numbers pan out, markets will also be closely monitoring Apple's earnings outlook in what is set to be a tough 2023.
After all, a US recession has been all the market chatter, with such risks only worsened by the still-lingering fears surrounding a banking crisis.
If global consumers take a major hit from such headwinds, that's likely to negatively impact Apple's future earnings as well, with traders and investors poised to hit the sell button on the stock at such downcast guidance.
But it's not all down and gloomy.
iPhone 15: Shareholders can look forward to the potential release of the iPhone 15 expected in September 2023 to potentially halt Apple's sales slump.

Share buyback: Apple is also widely expected to announce a larger share buyback programme today, which in turn should strengthen demand for Apple's stocks.
Apple's stocks in search of technical validation
From a technical perspective, traders will be looking for confirmation whether this stock has truly seen a legitimate upside breakout of its downtrend since its January 2022; or whether this was a false break.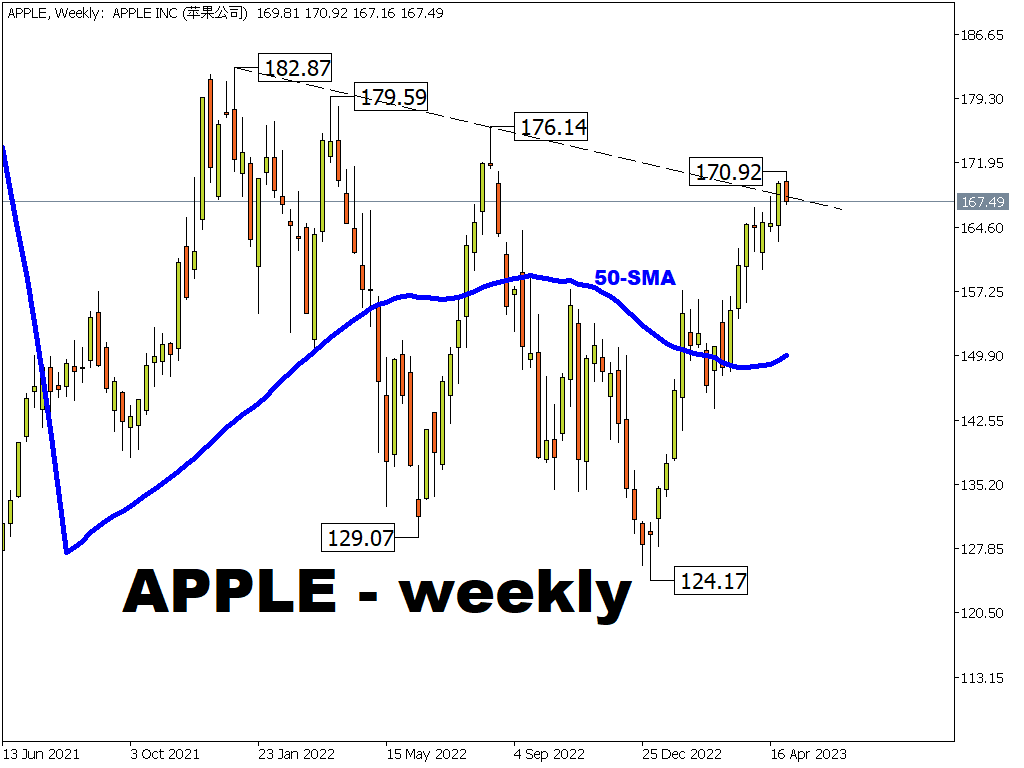 The recent pullback may have been due to the stock correcting after hitting resistance at its upper Bollinger band on the daily chart.
Still, Apple's year-to-date uptrend remains very much intact.
This stock's 28.88% year-to-date gains far outpaces the Nasdaq 100's 19.1% advance so far in 2023, as well as the S&P 500's 6.5% year-to-date advance.
Whether or not Apple can extend its advance this week would be very much dependent on a positive earnings surprise, as long as broader market sentiment remains conducive for risk-taking activities.